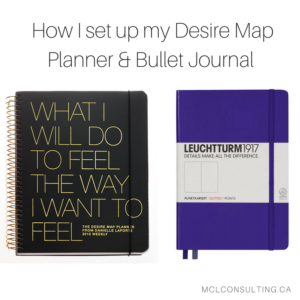 First up, I'm a planner and a recovering perfectionist (details here). I also love stationary and writing things down; almost as much as I love crossing things off my to-do list. I've always got an idea and they can "escape" as easily as they come to me. So, all that together, can be a slippery slope called perfectionism that leads to paralysis (couldn't possibly write in my pretty new planner, etc.).
But I have found planner peace with my Desire Map Planner (weekly edition) and Leuchtturm 1917 notebook that I use as a Bullet Journal (BuJo). In this blog post I'll share how I set up both systems, and in a second post I will share how I use both systems for planning my week. Of course, your mileage is going to vary so let this inspire you. Most importantly, take what you want and leave the rest.
I'm going to assume that you completed the Desire Map process (book or workshop) and have some Core Desired Feelings to try on – you don't have to have them completely decided upon or so-committed-to-them-that-they-are-tattooed-on-your-body. But a few Core Desired Feelings (CDFs) that lead you to feeling expansive, free, and lit up is just perfect.
Get your coloured pens, and let's get started!
The Desire Map planner
At the beginning of the planner there are two very important pages:
What will I do to feel the way I want to feel?
Write your Core Desired Feelings here using a pretty pen – they are sacred after all. I also put my word of the year and my mantras just off to the side (more about those here).
The next sections are the most important.  I use a page in my Bullet Journal to brainstorm the answers and then transfer them over (reminder: recovering perfectionist). I also use the workbook section of The Desire Map (paperback) for inspiration – specifically these pages: gratitude and dissatisfaction (for each life area), I want to do/experience/have (for each life area), and the action sheets at the very end for your monthly and weekly intentions and goals.
Your major intentions and goals for the year
Your major intention for the year is to feel your Core Desired Feelings, of course.  So I write those first, like this:
I am [CDF].
This year, I will feel _[CDF]_ more often than not.
I don't think you can write or say those sentences enough. Write it out. Say it. All day. Every day. I am is a powerful sentence!
I express each of my Core Desired Feelings as an I am statement and as an intention. So if you have 5 CDFs, you'll have 10 statements in your planner.
This might be all of your major intentions and goals, right here. I had a year like that, I get it. These are beautiful and plenty, and I promise, you'll have an amazing year.
Other big intentions and goals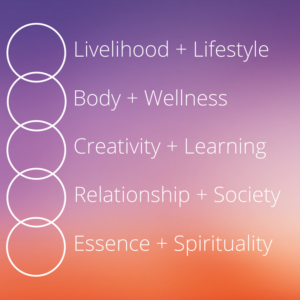 But chances are you have other big intentions and goals, maybe related to your job, business, a relationship, etc. I like to consider Danielle LaPorte's life areas here.
Your big intentions and goals should align with your Core Desired Feelings in some way – directly (they lead you to feeling them) or indirectly (they get you closer to feeling them or they lead you to feeling generally lit up, expansive, and/or free not a specific CDF).
Also, since these are major intentions they should take some time and effort to achieve.
Some examples could be:
Eat mindfully
Complete the Canadian Reiki Association certification
Fully unplug during vacations (regularly scheduled)
Facilitate Desire Map workshops
Regularly schedule time with friends and family
Purchase a new car
Sell my house
Find a job that aligns with my CDFs
I let myself dream. All of this work is being done in my Bullet Journal. I write anything at this point. No censuring, just dreaming and brainstorming.
When I feel done, I look over my list and choose. I use these questions as a guide:
When I read this, how do I feel in my heart? In my stomach?
How will I feel when I achieve this?
How will I feel working towards this?
How would I feel if I didn't achieve this in the next 12-months (or more)?
I only transfer the most important ones; the ones I really commit to. The others continue live in my Bullet Journal on a page entitled DREAM TECHNICOLOUR.
Since I give myself permission to change my mind at any time, having other heartfelt intentions and goals in my Bullet Journal is very reassuring.
I try not to put too many intentions in my Desire Map Planner. I want focus and to feel successful. So really just the most important ones are added to my planner.
To fulfill your intentions & goals, you will…
On this page, consider the tasks and actions you need to take in order to fulfill your major intentions and goals.
I do this work in my Bullet Journal because this is where I start getting ideas (like lots of ideas) – sometimes those are so small and tactical that they don't belong on this page. I title this brainstorming page as MY BIG IDEAS.
I don't try to categorize them or organize them. The goal is to dump all the ideas down on one page. In the second part to this blog post, I'll share how to use the MY BIG IDEAS pages.
Once I feel like I'm done, I review the tasks and capture the larger "buckets" in my Desire Map Planner. Some examples, related to the above major intentions, could be:
Complete meal planning
Launch my website
Write my Reiki manuals (Level 2 and Level 3)
Share my WHY at networking events
Ask for help, find help, and let them help
Now that I have completed these two very important pages in my Desire Map Planner, I move to my Bullet Journal.
Bullet Journal
What I love about Bullet Journaling is the freedom. You can make this as complicated, ornate, simple, or plain as you'd like. For me I like to strike a balance (not surprising that's one of my Core Desired Feelings). I use coloured pens and washi tape to mark important pages, but nothing else.
These are my standard pages in my Bullet Journal:
One two-page spread for each of my CDFs with simple actions to take that lead me to feeling that specific CDF
One two-page spread for each of major intentions and goals for the year. I transfer over the corresponding ideas from my brainstorming to this page.

I use this like a project page: actions, tasks, costs, contacts, ideas, etc.
Page title: PROJECT, subtitle I will [INTENTION]

One two-page spread for each month

Page title example: January To Dos

One two-page spread for each quarter

Page title example: Q1 Review

One-two page spread for lessons/ideas for next time

Page title: Lessons Learned
I have other pages that are specific to my business – like an editorial calendar, blog post ideas, work flows, social media information, etc. I also have pages for books, classes or webinars for my notes. This is where you can really make your notebook suit your needs perfectly.
Now that you have your Desire Map Planner started and your Bullet Journal set up you are ready to create an amazing year ahead.
You can jump here to learn how I use my Desire Map Planner and Bullet Journal to create some planner-peace (coming soon, I promise).
The bottom line
Please remember when it comes to setting your intentions for the year, you can change your mind, delete or re-set a goal. You can even decide to have no goals, other than feeling your Core Desired Feelings regularly. You're the one in charge. And remember, as The Desire Map says, feeling good is the whole point.
If you are feeling overwhelmed, focus on your Core Desired Feelings as your intentions for the year. Or maybe you'd like to join me for a group workshop on setting goals with soul. I also offer one on one workshops and coaching if that's more your jam (calendar here).
Interested in uncovering your Core Desired Feelings with me? More information is here.
Would you like some help setting goals with soul? More information is here.
Other blog posts you might like
My Favourite Tools
Desire Map Planner (here)
Leuchtturm Notebook (here)
Coloured pens and markers (here)
Highlighters (here)
Ruler (clear is super helpful)
Best pen ever made! (here)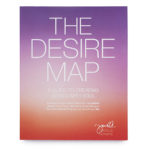 This post contains affiliate links for Danielle LaPorte. Her book, The Desire Map, made such an impact on me that I became a Licensed Desire Map Facilitator. I'm so proud to be part of this revolution of the heart. I'd love for you to check it out with my affiliate link right here.